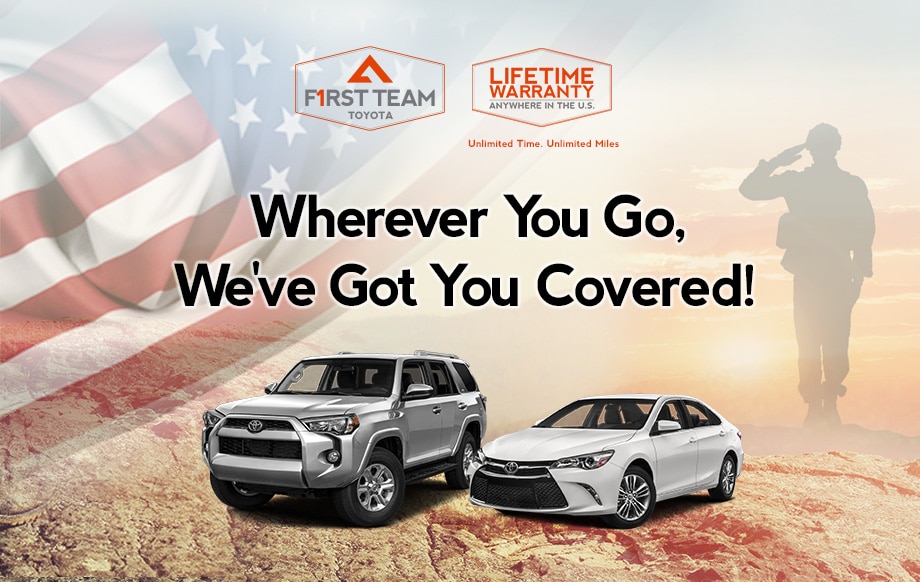 No Matter Where You're Stationed, You're Covered By Our Lifetime Warranty Anywhere In The USA!


Every New Toyota comes standard with the First Team Lifetime Warranty
Here's What You Need to Know:
The First Team Lifetime Warranty applies to all new vehicles. It also applies to all Japanese, Korean, and domestic vehicles (including Saturn, Chrysler, Dodge, and Jeep) that are 5 model years old or newer with no more than 50,000 miles. These vehicles must pass our Lifetime Warranty certification program. They must also pass a 40-point mechanical inspection and a CarFax or similar inspection.
The Lifetime Warranty costs you NOTHING! We're trying to create "Customers for Life" so the Lifetime Warranty comes standard with every qualifying vehicle meeting the criteria above and is included at no extra charge.
NO additional  maintenance is required. You must simply follow the manufacturer's Recommended Maintenance as referred to in the owner's manual. You must also keep records of all maintenance performed, to verify recommended service was performed.
The components covered are EXACTLY THE SAME as the manufacturer's Powertrain Warranty plus any additional coverage that is listed on the Lifetime Warranty Certificate provided when you buy a qualifying vehicle.
The First Team Lifetime Warranty is valid for AS LONG AS YOU OWN THE VEHICLE - unlimited time, unlimited miles.
You ARE NOT required to service your vehicle at First Team. Our Award Winning Service Department will certainly exceed your expectations, but that is not a requirement of the Lifetime Warranty. To maintain the warranty, you must perform the Manufacturer's Recommended maintenance and keep your records. IT'S THAT EASY!
Your First Team Lifetime Warranty is valid at any participating dealership or licensed service center in the U.S.A or Canada.